BLACK FOLKS CAMP TOO
Our mission is to remove fear, add knowledge, and invite more Black folks to camp with any and everyone. At the center of our logo and the heart of our company is the Unity Blaze, and it means
"Treat Everyone, Everywhere, Equally."
Your race, age, and and gender does not matter. We all have something to say around the campfire. Thank you for joining us as we Increase more Unity in the Outdoor Community and Beyond.
"We are changing the world… one campfire at a time folks!"
– Earl B. Hunter Jr.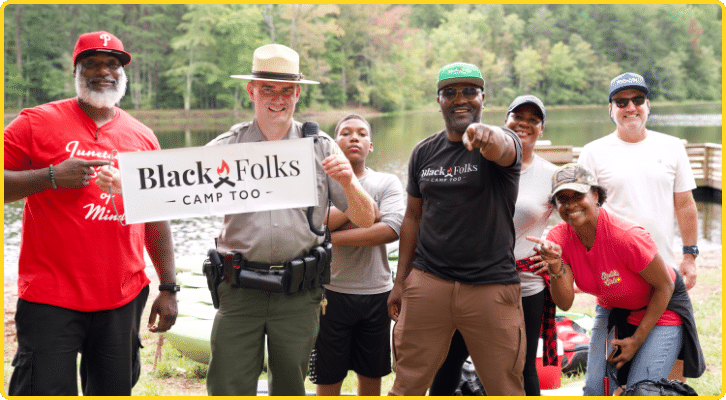 Watch the latest videos from our Youtube channel.
LATEST FROM THE CAMPFIRE BLOG
Gather around the campfire blog to stay up-to-date with the latest conversations from the outdoor industry, community, and beyond.
Black Folks Camp Too Partners with North Carolina RV Dealers Association to Increase Unity in the RV Community and Beyond
– If you are a resident of Charlotte, NC, you may have, for the first time ever, recently heard an RV Show advertisement on an Urban radio station by a man who founded the company, Black Folks Camp Too.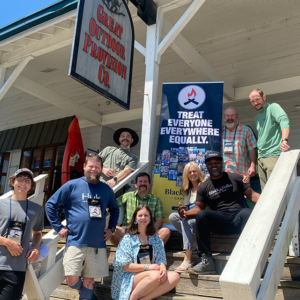 Great Outdoor Provision Co. and Black Folks Camp Too Partner to Unify the Outdoors in the Southeast
Great Outdoor Provision Co., a Grassroots Outdoors Alliance member and one of the largest and oldest outdoor retailers in the southeast known for selling top-of-the line quality gear for outdoor enthusiasts, is proud to announce its latest partnership with Black Folks Camp Too.
Our industry partners that supporting our mission of inviting "more" Black folks to experience and enjoy the outdoor lifestyle.
The new age of
exploration!