SC State Parks is partnering with Coach Buddy Pough and Black Folks Camp Too to encourage more unity in the outdoors
Celebrated head football coach of the South Carolina State Bulldogs and native South Carolinian, Oliver "Buddy" Pough, wants to invite everyone to experience South Carolina State Parks.
After camping in South Carolina's state parks for the first time in 2020, Coach Pough has become an advocate for the physical and mental health benefits that come from spending time in these treasured outdoor spaces. He is using his platform as a well-known and respected South Carolina icon to help encourage others who are new to parks to give them a try.
"As a life-long South Carolinian, I enjoy South Carolina State Parks because they offer rest, relaxation, tons of amenities, and adventure," said Coach Pough. "My hope is that more South Carolinians – and beyond – will visit our amazing parks because they have so much to offer!"
To help spread the word, Coach Pough along with Black Folks Camp Too, a company dedicated to promoting Unity in the outdoors, partnered with South Carolina State Park leadership and rangers to produce a Coach Pough Knows digital education series to enhance awareness and knowledge about outdoor activities available in state parks. The goal of the partnership is to connect with South Carolinians, and beyond, who may not currently use state parks to show what to expect, how to make the most of the experience, and to showcase the variety of activities that are available in our 47 state parks from the mountains to the coast.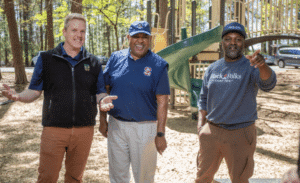 Watch the series by following South Carolina State Parks (on Facebook or Instagram) and Black Folks Camp Too (on Facebook or Instagram). The first video is now available, and additional videos will be posted on social media in the coming weeks.
"Seeing people enjoy our state parks for the first time – or for their hundredth time – is one of the highlights of being a park ranger," said South Carolina State Parks director, Paul McCormack. "Our parks have something for everyone, from offering activities like fishing, biking, disc golf, and paddling, to providing shelters for family picnics, playgrounds for the kids, and benches with serene views for peaceful moments of reading or reflection. We want everyone – whether you've been to a park before or not – to come out, enjoy our state parks, and know they are welcomed. We are grateful for our partnership with Coach Pough and Black Folks Camp Too for their help spreading that message."
"The campfire in the center of our logo is the Unity Blaze, and it means treat everyone, everywhere, equally," said Earl B. Hunter, Jr., founder and president of Black Folks Camp Too. "Your race, age, or gender does not matter. We believe the campfire is the portal to amazing conversations, and by educating more folks about SC State Parks and camping, we hope to encourage more diverse conversations around campfires. We also hope those conversations are delightful and folks will find out they have more sames than differences. Coach Pough has been inspiring teamwork, collaboration, and connections on and off the field for generations, and that theme is carried on to new spaces through this initiative. Together, we'll change the world one campfire at a time, folks!"
A long-term goal of South Carolina State Parks has been to broaden its appeal to make sure the diverse visitation at state parks – especially for pursuits like camping and hiking – better mirrors the population. Partnerships like this one are helping build the next generation of park users and inspire the next generation of park rangers, paving the way for a more diverse and inclusive future in our outdoor spaces.
For more information, contact info@blackfolkscamptoo.com or Sam Queen at sam@scprt.com or 803-767-3568.
Watch the first video in the series here: https://fb.watch/dcD_E6ctj9/